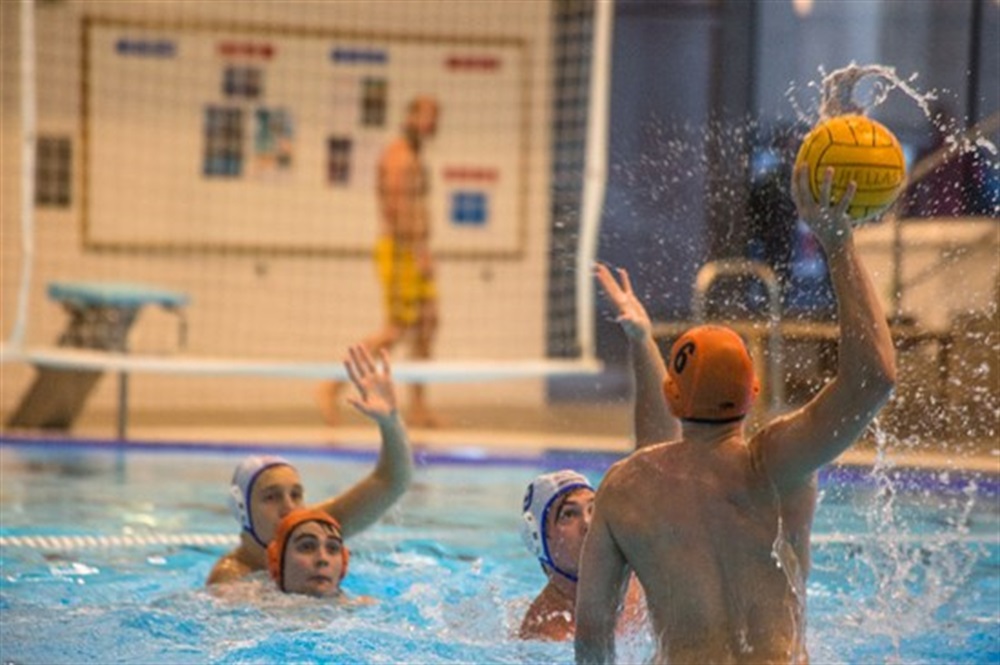 What is StockholmsPolisens Idrottsförening – Vattenpoloförening?
StockholmsPolisens Idrottsförening (SPIF) – Vattenpoloförening is a waterpolo team club located in Stockholm, Sweden. With more than 100 years of history, the club, known as Polisen, has won many Swedish Elite League gold medals and participated in several editions of the Champions League. Polisen, as it name indicates, was founded by the Swedish Police Department back in 1912 even though nowadays it does not have any kind of relationship with it. Apart from waterpolo, other disciplines that can be found are basketball, swimming, judo or handball among others. Next season we will participate in the Swedish Elite League (Top Division of Sweden), the Nordic Champions League (a tournament that gathers the best teams of the North countries of Europe) and the Beach-Vattenpolo that takes place during the SM-Vecka (Summer Swedish National Championships), apart from other prestigious tournaments.
Why should Your firm sponsor our club?
An excellent combination of young players combined with senior players. The team is composed by students, some of them in exchange, and experienced players. This has result in a team that has in one hand ambition and strength, and, on the other hand, experience and wisdom.
Multicultural waterpolo team. A considerably part of our players comes from foreign countries such as Spain, Italy, Australia, Iran and Netherlands; which makes it an international team where different waterpolo cultures are shared.
Important and prestigious presence. Our coach, Mr. Chris Marinos, and our manager, Hans Lunden, both former players of Greek and Swedish National team of waterpolo that participated in the Olympic Games of Moscow 80, have succeeded to make us be a solid and competitive team, where everybody wants to cooperate and work together to reach our goals. Besides, some of our Swedes play currently in the national team.
The second biggest waterpolo fan site in Scandinavia. Our good communication and marketing of events in combination with a multicultural atmosphere has recently made Polisen be the second most followed waterpolo club in Scandinavia in Facebook. Posts with club news including pictures, videos, game results, etc. can be found regularly.
Sport-values education of young players. The club also cares about the formation of new and young players, and thus there are teams for all young ages. They are introduced in this discipline and practice sport in a good atmosphere where good values are taught. Waterpolo summer campuses are also organized.
What types of firms is SPIF interested in?
All kind of firms are welcome to sponsor our club except those ones whose business is related to alcohol, betting or smoking. This is a legal requirement from the Swedish Swimming Federation. Examples of companies that are sponsoring right now are Huddinge Pedodonti, Anna Marinos Fysioterapi, Lablytica, MaximeGazzo Architecture and Malmsten.
The sponsorship agreement
SPIF players do not get any salary from the club; to enjoy having a nice time playing sport is our main goal. Therefore, our aim is to find sponsors in order to cover additional expenses such as national and international trips and clothes such as bathrobes, towels, tracksuits, bags or swimsuits. Thus we do not intend to ask for great amounts of money. We understand the meaning of the effort of investing in a sports club in such a difficult economic scenario, but our offers are adapted so that you will get an alternative and cheap way to promote your firm.
We are open to every kind of agreement. We usually offer sponsoring packages for games, the full season or a part of it including the following items among others:
Clothes sponsoring, where your logo will be present when we struggle to win our games in all the competitions.
Advertising before, during and after the games, in the pool with notice boards and voice messages during the matches, in the Facebook events, in the pictures and videos we make, etc.
Advertising in the official webpage of the club.
Advertising in the name of the club, i.e. Example Polisen or Polisen Example.
Advertising during the trips of the club (official games and training camps).
Expositions as well as activities that foster your company, and cooperation with You in order to reach a positive profit from both of Us.
I do not know much about waterpolo… should my firm go for it?
Then we are glad to invite You to sponsor us in one of our eventsfor free! We understand that waterpolo world in general and in Sweden in particular might not be familiar to You we offer Free Sponsorships where You will have the chance to sponsor the club at no cost without any commitment. You are free to choose from the services presented above and try out one of our games in the competition you prefer most. The average assistance per game goes from 200 in the Ground Series games up to 1000 people in the Finals. Games are streamed via Internet.
Invest in sport, invest on SPIF
We offer you to sponsor one of the leading teams of the elite series, fighter and winner. You would have as well international presence since we participate in international competitions. Please contact me to have further information about Sponsoring Packages we offer for the current season. I will be glad also of answering any question You might have.
I am looking forward to hearing from You.
José Javier Veganzones
Ordförande SPIF Vattenpolo
President SPIF Water Polo
jose@spifvattenpolo.se